VITTORIA SCHOOL for Language Mediators (SSML) is part of Excellence in Foreign Languages, a Turin learning centre which offers a wide range of taught courses.
The pathways offered are university degree, specialist degree (Master's) diploma courses:
Corso in MEDIAZIONE LINGUISTICA
(titolo equipollente L-12)
This three year course is valid for 180 CFU university credits, leading to a final qualification of a first level university DEGREE (legally recognized). The courses consist of in-depth teaching and study of foreign languages across a wide range of multimedia experiences. Students can choose between a variety of core language combinations: English-French, English-German, English-Spanish, English-Russian. Graduates from this degree course are qualified to enter the working world directly or to continue with a higher degree in language studies, specifically the two year Masters courses in Translation and/or Conference Interpreting.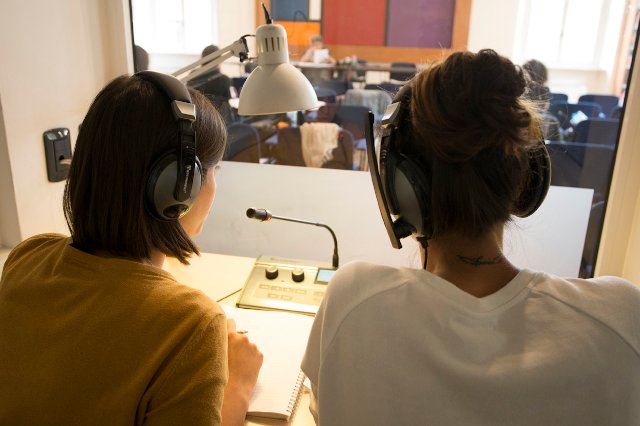 Corso in INTERPRETARIATO E TRADUZIONE
 (laurea magistrale LM-94 in convenzione con UNINT Roma)
Our graduate school offers two year courses conducted conjointly with the Department of Translation and Interpreting of the Università degli Studi Internazionali university in Rome (UNINT). Graduates can choose between two study paths: Specialized Translation and Conference Interpreting. Both offer intense, highly specialized courses, wide-ranging and flexible in content and approach. Students will receive a thorough grounding in theory and technique and will acquire all the practical skills needed to work professionally as a translator and/or interpreter.
GOALS AND OBJECTIVES OF VITTORIA SSML
Vittoria School for Language Mediators has always regarded change as the driving force behind development, and as a necessary condition for growth. Therefore, since its foundation, our School has often chosen to renew its course structure and academic programs, taking an active role in the internationalizing of the university world, a process fostered by an ever increasing number of foreign students and teachers, and a growing openness toward multiculturalism. The aim of the School is to provide students with rigorous basic training, giving them the knowledge and skill set they need to develop the competences essential to a professional linguistic mediator, in both the public and private sectors. This we achieve through active learning, cultural exchange, meetings with professionals working in the field and internships in Italian and foreign companies and organizations.
Partnerships and collaborations
VITTORIA SSML operates in collaboration with the following organizations:
E.Di.S.U. (Ente per il Diritto allo Studio Universitario della Regione Piemonte), the Piedmont region's agency for facilitating university access, offers scholarships to students enrolled at our school. These are awarded on the basis of an assessment of family income/size and academic merit.
IIstituto Cervantes, which has included our school as one of their Certified Centres, authorized to hold examinations awarding certificates of competence in Spanish as a foreign language (DELE examination centres).
UNINT University of Rome (Università degli Studi Internazionali di Roma), which has chosen SSML Vittoria in Turin as a branch university of its Rome base, conducting Master's courses in translating and interpreting conjointly with our school.
Our 2000 sq.mt campus, is located in the heart of Turin, very close to one of the principal city streets, Via Po. An attractive, modern space, it includes well-equipped classrooms, language and IT laboratories, as well as a multi-lingual library.
In recent years SSML VITTORIA university has activated a number of projects in the area of international relations, with the aim of expanding our teaching offer and guaranteeing that our students have the opportunity to experience quality relationships with universities and professional training schools outside Italy.
To achieve this goal, as a school we have established the priorities which will inform all our projects for international contacts. We aim to:
consolidate communication with other universities internationally
encourage student mobility
extend our educational offer through opportunities to study abroad
take part in projects and programmes aimed at internationalizing education and training
Internationalisation
In recent years, we have organized for our students to take part in residential summer courses held at prestigious international universities (London Metropolitan University; City University London; Lincoln Study Centre; Universidad Católica de Murcia).
In 2015/16 SSML Vittoria university institute put forward an application to develop exchange programmes for teachers and students as part of the Erasmus+ 2014-2020 project. Our application was approved in November 2016 and the Scuola per Mediatori Linguistici Vittoria university institute thus obtained the Erasmus Charter for Higher Education (ECHE) and has now become part of the Erasmus+ International Programmes.
As a result, SSML Vittoria has entered into a bi-lateral agreement for exchanges (for both teachers and students) with the A. M. Gorky state institute for higher education in Moscow.
At the present time we are also defining the terms of a bi-national Italian-French degree course, to be conducted in partnership with the Université Paul Valery in Montpellier, France.
Erasmus + is the EU's program 2014/2020 to support education, training, youth and sport in Europe. This program came into effect on  January 1st, 2014 in order to provide opportunities for over 4 million Europeans to study, train, gain experience and volunteer abroad.
Erasmus + combines and integrates the 7 funding mechanisms implemented by the European Union until 2013: the Lifelong Learning Programme (Erasmus, Leonardo da Vinci, Comenius and Grundtvig), Youth in Action and the 5 international cooperation programs (Erasmus Mundus, Tempus, Alfa, Edulink and the bilateral cooperation program with industrialized countries).
The Erasmus + Programme implements the following Actions:
Key Action 1 – Mobility of individuals
Key Action 2 – Cooperation for innovation and the exchange of good practices
Key Action 3 – Support for policy reform
FOCUS:
Erasmus + National Agency INDIRE
Executive Agency of the European Commission
In order to undertake an Erasmus + experience with the SSML Vittoria, foreign students must follow the selection procedure of their  Home University. The University will then provide the names of the students who are allowed to apply for a period of study in our School, by sending an e-email to the SSML Vittoria International Relations Office.
The Erasmus+ experience in our School  is available upon submission of a signed and implemented  bilateral Erasmus agreement between the two institutions.
As soon as possible, the selected student must send the following documentation duly completed and signed to the Erasmus Office (by mail to the address: Scuola Superiore per Mediatori Linguistici Vittoria, Via delle Rosine 14 – 10123 Torino, Italia; by electronic mail to the address: erasmus@ssmlto.it):
For a first semester or a whole academic year Erasmus stay, it is necessary to send the required documentation by June 5th of each year, while for a second semester Erasmus stay, by  October 30th.
The Erasmus Office will inform the student about the acceptance of his/her application.
After arriving at SSML Vittoria, the student is required  to contact  the International Relations Office on an agreed date in order to both complete the registration  forms and  obtain the college transcript.
Our University will sign the Erasmus+ Incoming Attestation (the form is usually released by the student's Home University). This attestation will state the starting date of the stay.
The student must then compare the courses listed in the Learning Agreement for studies (previously sent to the International Relations Office together with the application) with the updated courses planning and, if necessary, amend the original plan with the help of the Erasmus coordinator.
…PAGE UNDER CONSTRUCTION…
Preside: Prof. Adriano Pennacini
Coordinatrice ditattica: Bianca M. Petitti
Relazioni internazionali: Veronica Cappellari
Segreteria didattica: Donatella Lucchese