SSML Vittoria is the Piemontese branch of the Master's Degree Course in Interpreting and Translation (LM/94 – 2 years) of the Università UNINT University of Rome.
The course was approved by the Consulting Technical Commission of the Ministry for Universities and Research (MIUR) on 24/10/07 and the partnership agreement with UNINT was published in the government gazette, G.U. no. 289/2007.
The course trains students to become professional interpreters and translators capable of working with both the written and spoken word at the highest levels of textual and intercultural complexity, developing the skills to translate texts and speeches in specialist fields, which include economics, law, socio-politics, publishing, information technology, multimedia and biomedicine. There is a strong focus on acquiring competences in documentation and research in preparation for translation and on editing and revision of texts, as well as training in the use of the new technologies applied to translation, with training modules on localization, terminology and computer aided translation.
Students must obtain 120 ECTS to earn the Degree.
Students may choose one of the following specializations:
Interpreting: with a further specialization in Conference Interpreting or Public Service and Negotiation Interpreting;
Translation: which provides skills for the technical-scientific, economic, law, biomedical, social, health, editing and multimedia sectors.
All courses are held on the Turin campus: taught by qualified teachers appointed by UNINT, the contents of courses are approved by the central Rome campus. There is also provision for courses in some optional subjects to be taught in streaming directly from the UNINT faculty.
UNINT is also responsible for organizing, planning, administering and recording the final exams for all courses, as follows:
Written examinations for translation: these exams are held simultaneously with those at the UNINT central campus, in the presence of an examining commission consisting of UNINT and SSML staff members. Results are recorded in Turin; where a written exam must be supplemented by a further oral test, this will take place in Rome before an UNINT examining commission, who will then record the results.
Testing in interpreting practice will take place at the Turin campus in the presence of an examining commission consisting of UNINT and SSML staff members, who will record the results of the exams in loco.
Exams which consist solely of an oral session will take place in Rome and the UNINT commission will be responsible for recording the results.
The final exam in the degree course (prior to graduation) will be held in Rome, with the student's supervisor(s) from Turin present in the commission.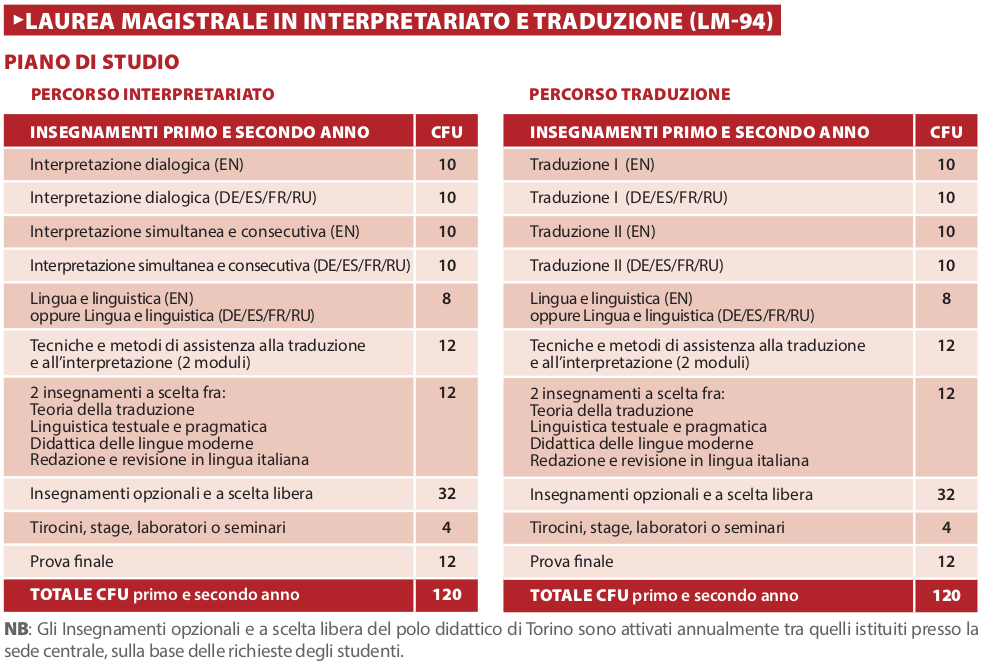 More informations http://www.unint.eu/it/interpretariato-e-traduzione/corso-di-laurea-magistrale-in-interpretariato-e-traduzione/11-interpretariato-e-traduzione/365-programmi-insegnamenti-ssml-vittoria.html